Artificial Grass for Playgrounds Chula Vista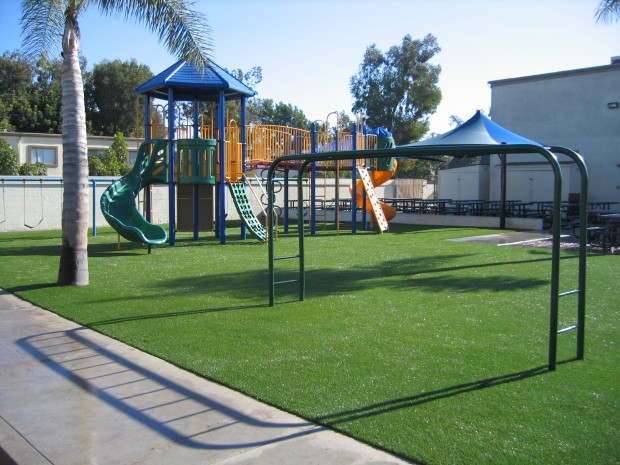 Could you imagine a high performance surface on your playground areas that would be ideal for hosting sports activities and more? How about not having to maintenance grass yet having it always look good? With our company, you can have an economical and eco-friendly way that allows you to achieve all of that and more. The solution is artificial grass for playgrounds. Do not think the word "artificial" screams the grass will look and feel fake. With some companies, this may be the case yet with our company the grass is going to look and feel real. This is because we only use the highest quality synthetic grass. The best part is our drainage system insures that you will have very little or nonexistent moisture too.
Parents always have their children's best interest in mind. They want them to be able to play in a safe environment where the risks of them getting hurt are slim to none. With the artificial grass, that we have you can make this happen. Scrapes and bruises rarely happen because of the cushioning that we install underneath. You can have our product installed at the playground, sports field, outdoor courts and more. You will notice how much different it is from natural grass but not because of a "fake" appearance.
Our products are ideal for places that are used frequently that undergo a lot of foot traffic and require too much maintenance or water consumption. The environment will be transformed into a safe environment in addition to saving money down the line too. The best part is the lifespan of our products are 10-15 years. Imagine how much money could have been saved over that time?
We have products available for playgrounds, sports facilities, day care centers, and more. We have options available that are sure to fit into your budget while also meeting your needs. Think about it no more mowing, watering, or fertilizing yet the grass looks like it is manicured on a regular basics. Never worry about parents being turned off by your facility again because of your lawn.
What we are offering you is a safer, cleaner, and more comfortable place for children to play. It will not allow insects, annoying pest, and grass allergies to be an issue. It is durable, long lasting, and eco-firendly.
Benefits of Installing Artificial Turf at a Playground in Chula Vista:
Mud and grass stains on the children's clothes are prevented
There are no fertilizers or pesticides used in the area
Hypoallergenic and antimicrobial
Durable and safe for children to play in
Cushioned surfaces so falling is not painful
No deodorizers or additives
Reduces water consumption
No fading
Multiple options to choose from
Playground is more appealing to the eye
Infill is not tracked out of the grass
Bottom Line
If you want to improve the lives of children and make sure that the earth stays around longer for their children to see it, investing in an artificial grass installation is ideal. Playgrounds, community parks, day cares, and more can all benefit from what we are offering. Californians have already been asked to conserve water and this is a prime way for you to do so. Furthermore, the value of the property is going to increase by having the installation installed too.